Supply and demand in 2021
by Dave Griffiths
- May 19, 2021
---
We are hearing some scary indicators of delays with new bikes sometimes only being available in 8 month's time and the lead time on mountain bike suspension and dropper posts around 300 days.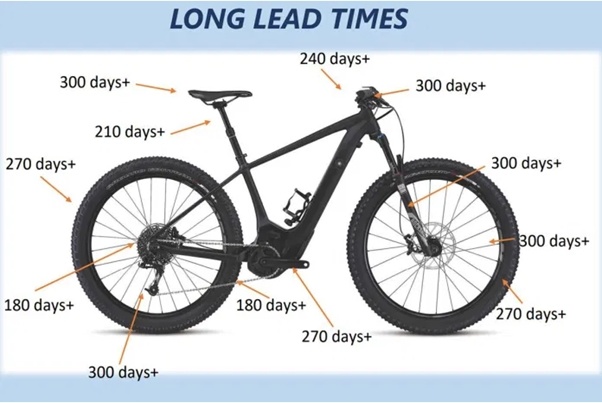 The high demand is also resulting in container shortages, significant increases in the cost of getting containers to Australia and delays in the shipping process that make timing unpredictable.
Within Australia, there are also issues with supply of basic components and parts. There are many suppliers we can get saddles, tubes and tyres from but in the last few months, there have been times when all the suppliers we deal with are sold out of these basic parts at the same time. As an example, in April our suppliers all sold out of 29er tubes for mountain bikes – this is something I have not seen in the last 12 years of owning the shop!
To a degree, as a bicycle retailer, there is not much we can do other than trying to plan further ahead than we normally would and trying to carry higher levels of stock than we normally do.
For consumers there are a number of things you need to bear in mind and plan ahead for:
Prices will go up for bicycles and for parts – the cost of getting containers here is high at the moment and this affects everything. We have seen the cost of tubes increase by up to 30% and we are hearing of bike manufacturers increasing prices by around 10% in some cases.
There will be less bikes and parts on sale – with the demand so high, all suppliers have cleared excess and old stock – this is the stuff that is normally put on sale and since there is virtually nothing left, we do not expect the usual clearance prices we see coming into winter.
You may not be able to walk into a bike shop to try before you buy – with such limited stock available, shops will struggle to carry decent stock levels. We are already seeing people pre-ordering bikes that they have not seen or ridden and in some cases people are pre-ordering bikes for 6-8 months ahead.
Parts and accessories will be unavailable from time to time ­– we have seen this already and we expect the trend to continue for at least 12 months more so plan ahead and keep more spares than you normally would.
Bike Force Joondalup is in a reasonably good position as we deal with a number of bike brands and a number of parts and accessory suppliers so we are trying our best to maintain good stock levels. If you are planning to purchase bikes or parts please chat to us well in advance and we will try our best to source what you need and still offer good pricing for you. These are interesting times but we will keep you cycling if you continue to support us and chat to us in advance about your cycling needs.
---
Dave Griffiths - Admin
May 29, 2021
We've responded to you via email, thanks for contacting us :)
Hi there,
Do you guys happen to have the cannondale synapse alloy 105 size 54 in stock or incoming?

Thanks!
---