Posted on
By Candy Griffiths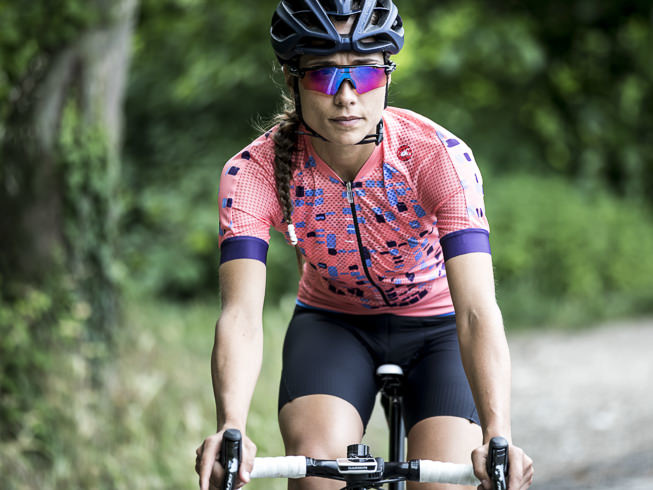 We're now stocking some Castelli Men's and Women's Jerseys and Women's Bib Nix. Castelli is renowned for good quality fabrics and fit. Castelli certainly must have a female designer because their fit is always flattering and slimming and the patterns and design are always spot on.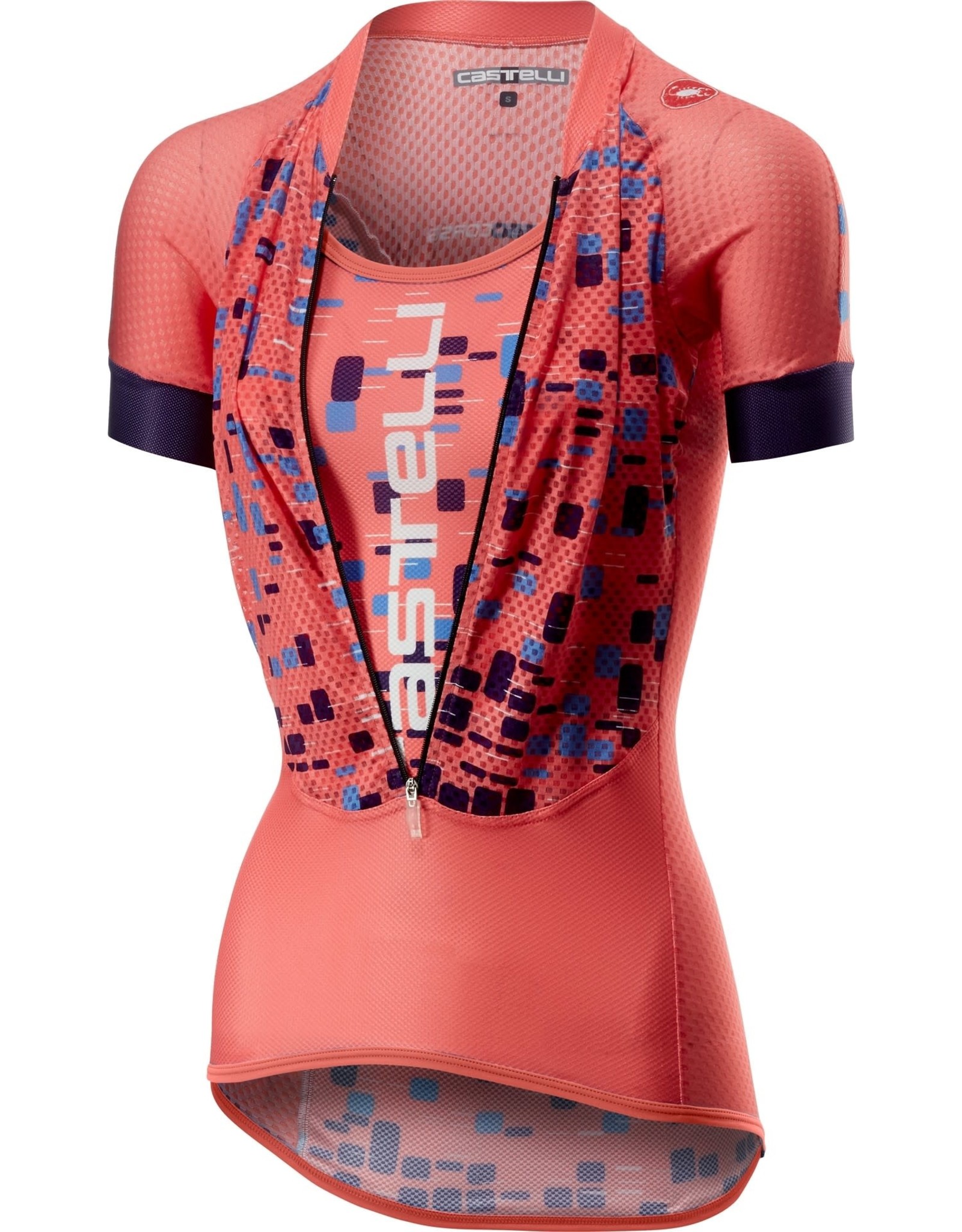 First of all the Salmon colour of the jersey is eye-catching and stands out.  I would actually describe the colour as a coral pink. It has deep purple silk sleeve ends and a purple and blue squares pattern on the front and back.  The fabric felt lightweight and silky.  I loved the fit as it has soft grips on the arms which looks lovely. The arm length comes almost to the elbow.  I really liked the  slimming fit and it felt like a second skin. 
I thought I might need to go a couple of sizes bigger as it is an Italian brand and their sizing is generally smaller than Australian sizes, so I was pleased when I only had to go up one size and  although I did fit into my normal Australian size, I prefer the fit to be slightly more generous, but that's just me.  For the slim girls who prefer a tighter fit, I would recommend they select their normal size.
When we started the ride, it was a bit chilly, but as the route rolled into hills, I started to feel a bit warm so I was able to pull the front zip down to cool off and NO I was NOT being immodest, the jersey actually comes with an underneath vest with the same fabric and pattern so when you unzip, all you see is a vest which matches the jersey.  It is also built into the jersey and is not a separate garment.  It actually cooled me down a lot as it exposes your core to the cool air while still retaining your modesty.
It was very comfortable to wear and felt lightweight.  I couldn't really point out any flaws as this jersey has none and it's going as low as $119.  This is an excellent price, for a high quality, beautiful garment that I would highly recommend.  Some clothing makes you feel good about yourself and this jersey will do exactly that.
Feel good about yourself on the bike and you are more likely to get out and ride more often.
Sizes: Small, Medium, Large, X-Large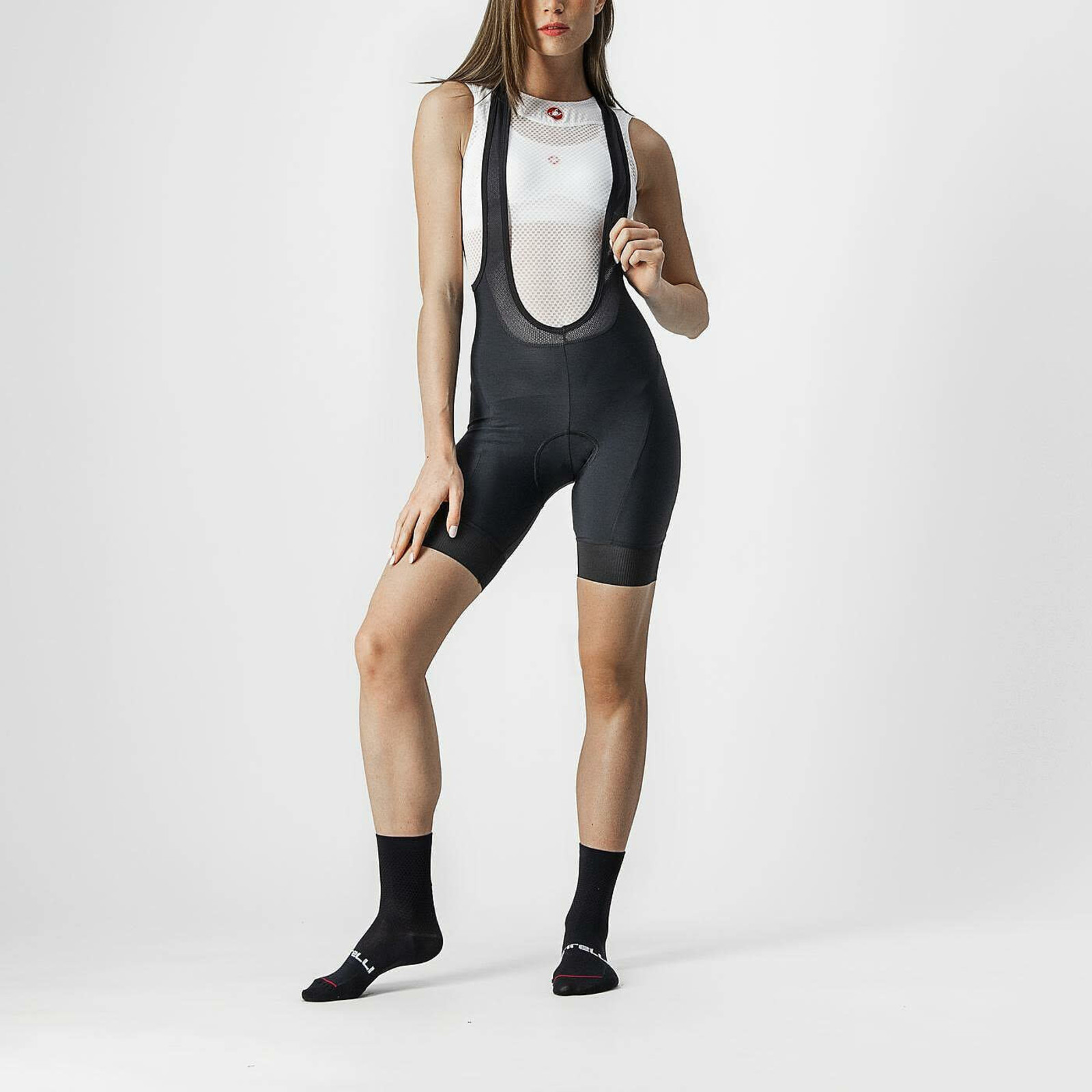 The Castelli Prima Bibshort has a firm, compression fit which will look good on any body shape.  It really holds it all in and smooths out the contours. 
The padding is quite thick and has little round holes cut out throughout the pad.  When I first saw it, I wondered why they did that with the design.  I thought perhaps it was to keep you cool, I just had my doubts that it could support your butt as well as a solid pad.  Although I was a bit sceptical, I was prepared to give it a go with an open mind.
I chose a tough, fast 60km ride to test out how much protection the padding could give me.  The reason I chose a tough, fast ride is because I rarely get out of my saddle when I am trying to keep a faster pace, I tend to sit the whole way to conserve as much energy as possible and this ride was no exception.  Most of the cheaper padding starts to give way at about the 35 to 40km mark and on the rides that I stay in the saddle, this is the point I normally end up chaffing and feeling sore.
The Castelli Bibshort was super comfortable for the whole 60 kays and  I was pleasantly surprised.  I fully expected  to feel a burning sensation down under at 40km, but  when I got home after the ride, I realised I could have sat in the saddle a whole lot longer with the quality of this padding.  The holes actually did keep my butt nice and cool, which may seem trivial, but is important.  Sweating in the nether regions is a breeding ground for bacteria which can cause saddle sores, and no one wants to experience that.  The whole pad was firmly supportive throughout the ride.  What a lovely pair of nix!!!
Possibly the only downside of this garment, is the length of the leg.  Some ladies prefer a longer leg, but I actually prefer the slightly shorter leg.  It sits about an inch above the knee, so while it is not too short, it might not be long enough for some ladies' preference. 
I also love the soft, wide grips on the bottom of the legs.  They gently encase the thigh rather than gripping tightly (which can causes unsightly, sausage-like bulges), but still provide the grip you need to keep the garment in place.  It felt really good on the thighs and it looks sleek and neat.  I can honestly say that unlike some nix with bulging, sagging padding (making the bum look droopy), this pair of bib nix makes the butt look neat and small, which is always a bonus.
We're selling this garment for only $149 and if you are doing big events, is well worth the money spent.  Remember that the more comfortable you are down under, the more likely you will ride longer.
Sizes: Small, Medium, Large, X-Large